Group Streetlight Monitoring (LAN Based)
With all the features of Group Street light Monitoring (GSM Based), we further moved to LAN based Streetlight monitoring and control system for Large plants in remote areas, where GSM connectivity is not as reliable as we have in cities. The modifications are as below.
1.We can Remotely monitor and control the Intelligent street light feeder pillar via web-site with user friendly web interface.
2. SMS alert on required mobile number on pre-defined events, like Short circuit, Over current… etc.
3. LAN connectivity to every feeder pillar instead of GPRS/GSM connectivity.
4. All feeder pillars connected to the local server with 24×7 internet connectivity.
5.Java application on local server will handle data from feeder pillar and pass it to our web-server.
6. Above two step will replace the requirement of GPRS connectivity requirement and communicate directly to website.
7. Authorized user can access connected feeder pillar via website using laptop / tablet / mobile.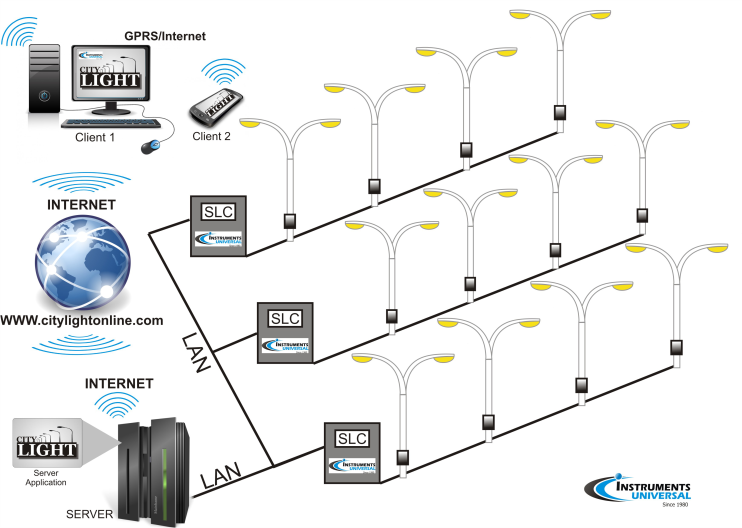 About Company
Street light controller, Energy conservation equipments for street lighting control system for street light automation and management in Gujarat.
Company Address
15-B, BEI Compound,Opp. Mona tiles Chhani Jakat Naka, Vadodara – 390002
Gujarat, INDIA
Contact Now
+91-265-2771434
+91-9824934312
+91-9925044649
Email
insuindia@gmail.com
contact@insuindia.co.in insuindia@rediffmail.com