Lamp Monitoring (GSM Based)
 Lamp Monitoring System (GSM Based)
Insu Lamp monitoring system (GSM) is our latest product in street lighting. It is specially developed for energy saving in conventional street lighting system in smart cities. By using Lamp controller system one can save up to 41 % energy. Considering 50 % dimming at midnight. The best thing about power saving mode is uniform lighting thought out the road. It saves power and also avoid dark spots on the road. Day light power saving scheme can also save some more energy.
Apart from energy saving this can also save manpower, operating cost and also reduce manual errors. Smart lamp controller is programmed to calculate sunrise and sunset timings for whole year based on longitude latitude of the system. Street Light operation changes as Sunrise and sunset time varies day to day basis. This Astronomical operation can save approx 8% energy as in one month there is a change of about 30 minutes. In entire year sunrise and sunset time changes by about 190 minutes. With such a huge change of operating time any conventional timer may not serve the purpose perfectly. Thus, Insu Lamp controller system can save energy up to 8 % against conventional manual operation, Photo sensors or conventional timers. Insu Lamp monitoring system  incorporates a real time clock with in built battery backup for minimum 8 years. There is no need to reprogram the controller even if supply fails for long time.
Energy savings combined with reduced maintenance costs are prime benefits of smart street light Lamp monitoring. Our SCADA software named Citylight is based on advanced use of global technologies for optimum performance to the customer. We also provide more economical Group monitoring and control system for centralized streetlight management.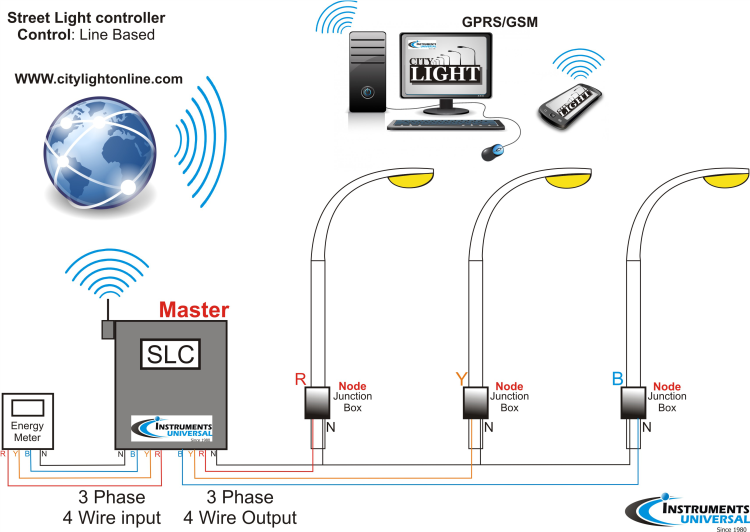 About Company
Street light controller, Energy conservation equipments for street lighting control system for street light automation and management in Gujarat.
Company Address
15-B, BEI Compound,Opp. Mona tiles Chhani Jakat Naka, Vadodara – 390002
Gujarat, INDIA
Contact Now
+91-265-2771434
+91-9824934312
+91-9925044649