Instruments Universal is a leading manufacturer of Smart street lighting system. We also manufacture Energy conservation equipment for street lighting and street light monitoring and control system for street light management in Gujarat.
Instruments Universal was established in 1980 in Vadodara. With a strong technical foundation and 30 year experience in Effluent Sampling Automation, it has emerged as one of the leading torchbearers in the Automation Industry.
The year 2000 proved to be a milestone for Instruments Universal with the establishment of a separate project division for Embedded System & IT Solution Development. A value-added approach for Systems Integration enabled the company to redefine the business of Digital Control and Industrial Automation. Its technological edge has lead to a steady growth of the division making it the USP of the company.
The company has evolved into a technologically sophisticated organization with core competencies in Industrial Automation & System Integration. Unsurpassed quality, reliability and customer loyalty form the motivating factors for Instruments Universal to have a consistent performance for years.
What We Offer
Besides dynamic growth, our team is characterized by its exceptional stability. This is result of a well developed company culture and a highly motivated team of engineers
Software & Hardware expertise

Skilled technical resources

Ongoing technical support

On-site implementation and training

To become an internationally recognized company in the field of Automation and IT
To remain a reliable and preferred partner in our customer's growth
To supply Automation and high-tech information technologies worldwide
To continuously support the advancement and know-how of our employees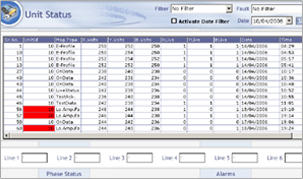 Project software development
Instruments Universal specializes in software development services that suit specific business needs of clients. The technical expertise of the company in design & development of innovative solutions enables to offer perfectly customized products to customers. Customer confidence and innovative, cost-effective solutions allow Instruments Universal to maintain a healthy business relationship with a loyal client base.
About Company
Street light controller, Energy conservation equipments for street lighting control system for street light automation and management in Gujarat.
Company Address
15-B, BEI Compound,Opp. Mona tiles Chhani Jakat Naka, Vadodara – 390002
Gujarat, INDIA
Contact Now
+91-265-2771434
+91-9824934312
+91-9925044649